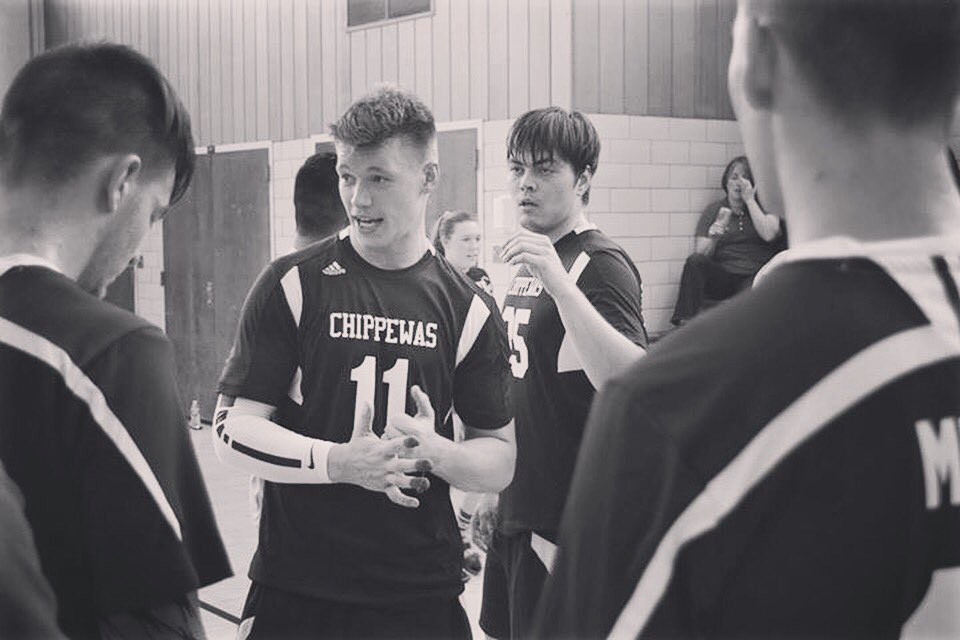 This past weekend, 5 teams made their way to East Lansing, Michigan to take part in the first tournament of the 2017-2018 season, the "Early Access Tournament" hosted by Michigan State University. The results from the tournament were a mixture of surprises and expectations.
Below is a breakdown of how each team looked at this tournament, written by Kevin Bailey and Colby Briceland.  Sections written by Colby will include a "CB", while sections written by Kevin will have a "KB".
First, here are the results:
Round 1
SVSU vs MSU: 5-1 SV
GVSU vs CMU: 4-2 CMU
Round 2
MSU vs BGSU: 4-2 BG
Akron vs CMU: 4-2 CMU
Round 3
SVSU vs BGSU: 4-2 SVSU
GVSU vs Akron: 4-0 GVSU
Three Seeds:
MSU vs Akron: 3-1 MSU
Two Seeds:
GVSU vs BGSU: 2-1 GV
One Seeds:
CMU vs SVSU: 3-2 CMU
CB: The Chippewas showed us that the Lakers are mortal and can be defeated. This new squad under the leadership of MVP front-runner Mike Riley looked great. There were questions about Riley's ability to take the reigns of this team, but if the Chips stay the course, then they will be the team to beat this season. While they are still ranked second as of yesterday, the point differential has been lowered and we now know that CMU has come to play this season.
KB: I was very very impressed with what I saw from CMU this past weekend.  It is no secret that entering the year I predicted GVSU to run the table.  Central Michigan got the job done on Sunday though, and they are the new #1 team in the country as of now.  What stood out to me for CMU wasn't one individual player, or set of players, but instead was their balance and organization.  Central Michigan played together better than any team they faced, and it wasn't even close in that category.  Credit the leaders of this CMU team because they were far and away the most cohesive unit in East Lansing.  If Central can continue to play this organized all year, that national title drought may be coming to a close.  Mike Riley was the top player (despite throwing a grand total of 5 catches on Sunday… ouch).  He did a great job controlling the pace of the game, especially in their win over GVSU.
---
CB: Saginaw Valley State University also had a good showing in East Lansing, finishing 2nd this weekend after falling to Central.
KB: I only saw 1.5 games of SVSU on Sunday, and one of those was their loss to CMU.  All I can say about SV right now is that they are in a good place as a team.  They are, as expected a solid team.  They will certainly compete for the top spot in the state of Michigan and in the nation.  I think the main reason they fell short against CMU was their depth.  The top players for SVSU can on ly be counted on to do so much.  If SVSU can develop a solid 6-12 on their roster, they will be an extremely dangerous team by the second half of the season.
---
CB: GVSU didn't look like the 2017 National Champions, but that's not saying they looked bad, because a bad dodgeball day for the Lakers is a good day for most teams. They took a tough first loss to Central, but then took the win against Akron and Bowling Green. I still see the reigning and defending champs within this squad. With the first tournament now behind them, I'm sure they are already making adjustments based on their performance this weekend.
KB: GVSU fell short of expectation on Sunday.  No sugar-coating that.  The Lakers were not nearly as organized on the court as their opponents at times, which is very uncharacteristic for a Grand Valley Team.  For a third consecutive year, the Lakers lost their first game of the season.  Will the season end with championships at MDC and Nationals?  That is still up in the air.  The good thing for GVSU is that they certainly have the talent / skill to be an elite team, but they have yet to put it all together.  I am very excited to see what this squad looks like next time they take the court.
---
CB: BGSU showed us that they can indeed compete with the Michigan region. They took the win against MSU and took two points on Saginaw and a single point on Grand Valley, which is no small feat. I was wondering how the Falcons would compete without Tyrell, and it seems like they will be just fine.
KB: No team impressed me more on Sunday than Bowling Green.  Picture this: a historically below average Ohio school travels up to Michigan to play three perennial powers from the Great Lakes State, and they come away with one win and a few close losses.  Well, that's exactly what BGSU did last weekend.  They started the day with a convincing win over Michigan State.  After being tied at the half, BGSU took three points on the Spartans in the second half to snag their first win over a Michigan school… ever?  Somebody fact check me on that one please.  BGSU's next game was a 4-2 loss to SVSU.  Absolutely nobody expected BGSU to have the firepower to take 2 points on SV, but that happened too.  The Falcon's last game of the day was the two-seed match between GVSU and BGSU.  This looked like it would be a blowout after one point, but BGSU made a statement by tying the game at one in the second half before a decisive last point went to the Lakers.
Now, before I end this rant, let me give you a few things to consider.  First of all, Tyler Wickham was not in attendance this weekend.  That's arguably BGSU's best player.  They did all of this without a top player even on the court.  In Wickham's absence, I saw a few other BGSU players stand out from the crowd.  Tyler Broyles had an unbelievable tournament, thanks to his clutch catching and absurdly aggressive play-style.  I honestly can't remember the last time a player from an Ohio school was able to dictate the pace of the game against a Michigan team as well as Tyler did this weekend.  Two other standouts include Reid Manger, who was a catching machine against GVSU (easier said than done), and Max Kowalski who may have had the best arm on the court for BGSU this weekend.  BGSU is going to be a dangerous team this year.  If they don't make the quarterfinals this season it will be a surprise in my opinion.
---
CB: Michigan State fell off a bit since almost going to the National Title Game last season, but with some strong recruiting and organization, they can again compete in the Michigan region. They were able to take the win against Akron, but fell to the other squads. They have the leadership, the drive and the raw talent, now lets see if they can make it happen.
KB: I didn't see a whole lot of MSU this past weekend, but from what I did see, it is obvious they are in a major rebuild phase right now.  This year is going to be a bit different than the past two or three years because the four Michigan schools won't all be at the same level.  Michigan State is the clear 4th seed in this region, and they will have a tough time changing that this year.  With that said, I saw some talented rookies on the court.  Honestly, this rookie class for MSU might shape up to be one of their best in a long time.  It will take a while for the Spartans to develop their newfound talent, but I am excited to see this rookie class start to realize their potential.
---
CB: The University of Akron braved the journey into the lion's den this weekend, and based on wins vs losses, they didn't fair too well. But in terms of experience, they gained on court knowledge that only the Michigan Region can give. UA brought almost a new roster with only a few of the players having competed at Nationals last year, between injuries and players not being able to travel. They managed to score some big points on the Chips and Spartans, but the lack of organization and a solid game plan spelled out the demise for the young squad.
KB: I admittedly only viewed about one half of Akron dodgeball on Sunday.  The issue is clear though: depth.  Akron didn't prevail in any of their games this weekend because they are too top heavy.  It is going to take some time to develop the bottom half of their roster, but unfortunately for Akron, their extremely solid top 5 or 6 players is not enough to beat a Michigan school.  I look forward to seeing this team fill out the back end of the roster to become a much bigger threat by the end of the season.
---
That's all for this recap article.  It was an interesting first tournament to say the least.  Congrats to Central Michigan for taking home first place, and major props to both BGSU and Akron for embracing the challenge and coming to this very competitive tourney.