Since 2017, the NCDA has honored the female competitors who have dedicated time and effort to their craft. The individuals on our list have excelled throughout the past year and made major contributions to their respective teams. Many of the NCDA's female athletes also support their organizations through leadership roles, and this list is a way to recognize those outstanding individuals.
MVP – Kathryn Mays (Ohio State)
The NCDA honorably recognizes Kathryn Mays as our 2020 Women's MVP. Kathryn sets the bar quite high for women's participation in this league and should be seen not only as a role model for upcoming women in the NCDA, but for all women athletes around the country. Her dedication to her sport and her team is unparalleled by many players in the league. Her passion for the game was not the only factor in her MVP selection of course; Kathryn's court knowledge and ability granted her high consideration for the MVP role. Making the starting roster on a top 10 team in the league is already no easy task, and while Kathryn not only starts for Ohio State, she can be seen as one of the main reasons for their success. Kathryn is a quiet player who may often be underestimated until she steps up late in the match to show off her survival skills, catching ability, and strategic throws. Her leadership and dedication will be landing her the role of President for The Ohio State Dodgeball Syndicate next year as she continues their team's journey of success. Kathryn will continue to shine next year, and prove to everyone that women in this league can compete, and win, against many men on the same court.
---
2) Jenny McClune (Ohio)
Jenny has been a huge part of the Ohio Bobcat roster for the past few years now and makes her second appearance on this list. Incredibly elusive, she filled an important role by surviving and completing timely catches throughout points. Most often if you watched Ohio play she was one of the last ones on the court. And would clutch a catch or two to bring in her teammates in order to win the point. Although this is her second time appearing on this list, Jenny still adds so much more to her team than what she is credited for.
---
3) Anna Moellenbeck (Miami)
Anna again finds herself on the women's All-American list, and for good reason. Her dodgeball IQ has grown with every season and allowed her to adapt her play style since entering the league. She motivates her team like no one else can, and in tough situations, always knows what to say. Her ability to read her opponents and put herself in prime position to pull off a drop catch is second to none. Anna has become a fierce competitor for the Miami RedHawks and an integral part of their roster.
---
4) Bryce Bathras (Maryland)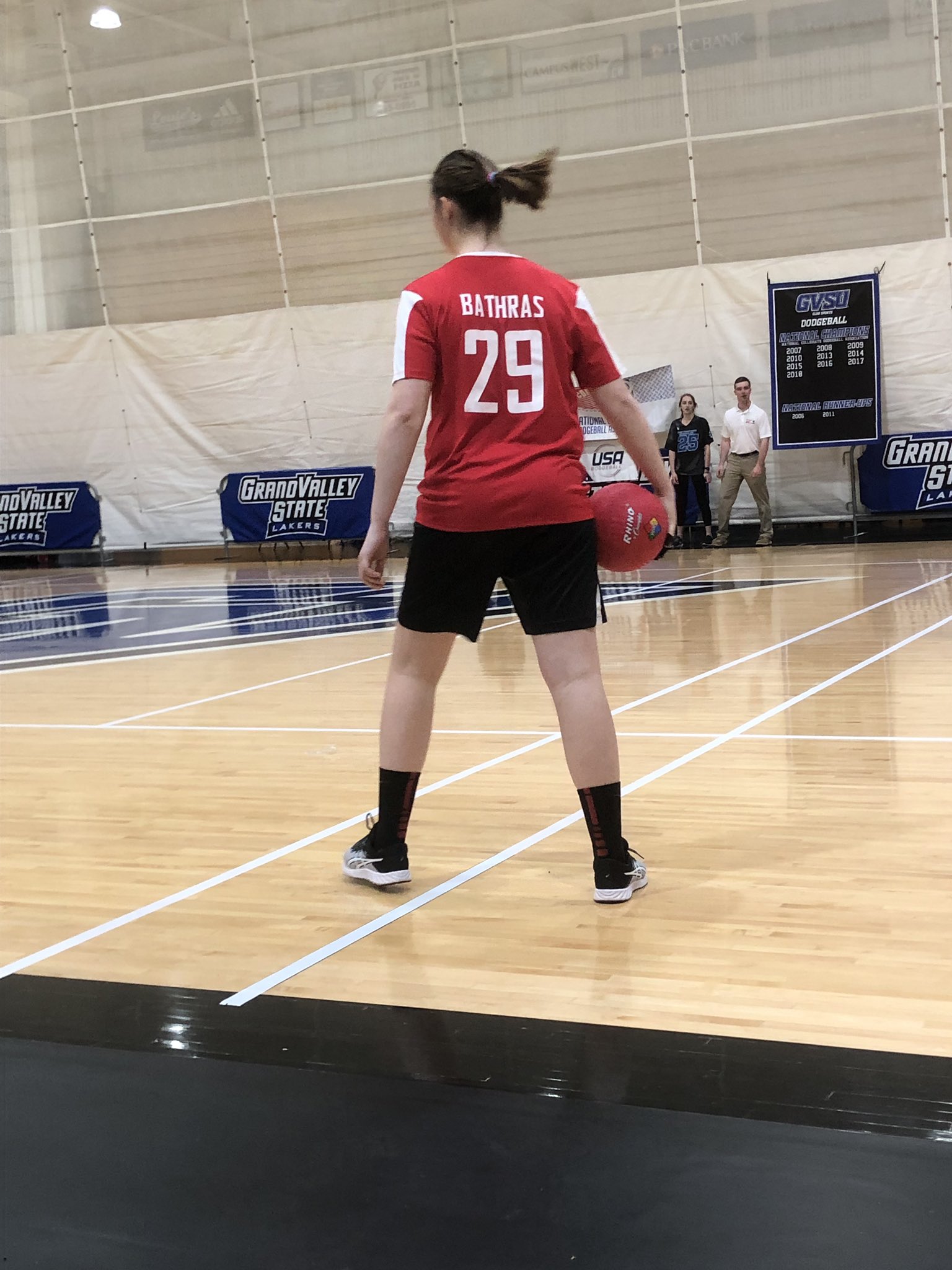 Bryce is a player who has shown tremendous dedication to the game. As an example, she drove by herself from UMD in 2019 to GVSU Nationals since she was unable to leave on time with the team originally. That dedication has paid off and turned her into a formidable player for the Terps. UMD has traditionally been a team with strong catchers and Bryce carries that mantra well, making clutch catches throughout the year. Her arm has also started to come along too, which has added another dimension to her game.
---
5) Katie Cutler (SIUE)
In Katie's first competitive year playing, she showed herself to be one of the most well rounded players on SIUE. She was always one of the last people in points, being able to take on multiple people at one time. Joe Perez says that her strongest attribute to the team is her leadership, she was able to bring a team of mostly new players together to form a working team.
---
6) Anna Miller (SVSU)
Anna Miller is a true freshman rookie who has developed well in the time she's played in game and continues to improve. Anna has the potential to be a full time starter on one of the NCDA's most historically top programs. This is thanks in part to her training with former SVSU great Kenny Mize, who has helped develop Anna into a solid catcher.
---
7) Carolyn Curley (Nebraska)
Carolyn is only in her freshman year and she has proven to be a great asset to her team. As a player, she makes her on court presence know to her opponents. She is always active on the court and is always looking to catch whatever comes her way. Carolyn is very vocal, which is one of her best skills. Her ability to communicate with her teammates allowed for UNL to play their game and know what to expect next. It was part of what made games against UNL challenging. I'm looking forward to seeing her develop her talents.
---
8) Brooke Kobza (Ball State)
Brooke was one of the top female players at BSU. She is an individual that has a great attitude both on and off the court. She is a team player, which comes in handy when you are on the court. She worked hard in all matches no matter the end results.
---
9) Jazmine Cottledge (CMU)
Jazmine has been the lone woman for CMU this year and she has really shown that she can hold her own. She has incredible knowledge of the game and court IQ. She has quickly developed great catching abilities and is always looking to make plays. She is constantly learning and analyzing the game and making smart, team decisions for the Chippewas. I believe that Jazmine will continue to develop into a strong player and become a big part of the Chippewa roster.
---
10) Elly Schipfer (Miami)
Elly Shipfer made some waves as a rookie this year. An impressive feat especially considering that her Miami team was deep with talent and didn't have a lot of rookie playing time to go around. After beginning the year as someone "on the bubble" to make tournament rosters, she made the most of her limited opportunities and forced her way into being a regular. As with most of the ladies on this list, Elly makes her impact felt the most with her ability to catch. What makes her stand out from the others, though, is her raw athleticism and passion for learning the game. Whether on or off the court, Elly is always analyzing what's happening and almost never goes a practice without asking an upperclassman a question to help make her a better player.
---
11) Kali Lachner (DePaul)
Kali is one of the most supportive players on DePaul's team and is one of their best female catchers. She is never afraid to go for a catch. She really embodies what DePaul dodgeball is all about, which is family, friendship, community, and playing dodgeball with those you care about. Kali's talent and skill will only go up from here.
---
12) Kate Bondy (SVSU)
Kate Bondy is a real athlete whose dodgeball IQ is growing every second she watches and plays the game. Key blocking isn't an aspect of the sport that is always pointed out on what makes a good team great, but Kate's blocking has had important impacts for SVSU when she's on the court. Along with her pump fakes and deceitfully good catching ability, Kate will continue to see more time on the court in coming years.