Saturday, February 22, 2020 was a hectic day for college dodgeball. In total, 18 schools were in action on Saturday, spread across 3 separate tournaments: Ohio Dodgeball Cup, BEAST, and Viking Cup. It was a day full of awesome games and interesting results, with 28 total matches taking place throughout the day. There is certainly a lot to unpack after Saturday, so to break things down a bit, let's take a look at the biggest 'winners' and 'losers' from last weekend.
Before we get to the fun stuff, here are the results from the weekend: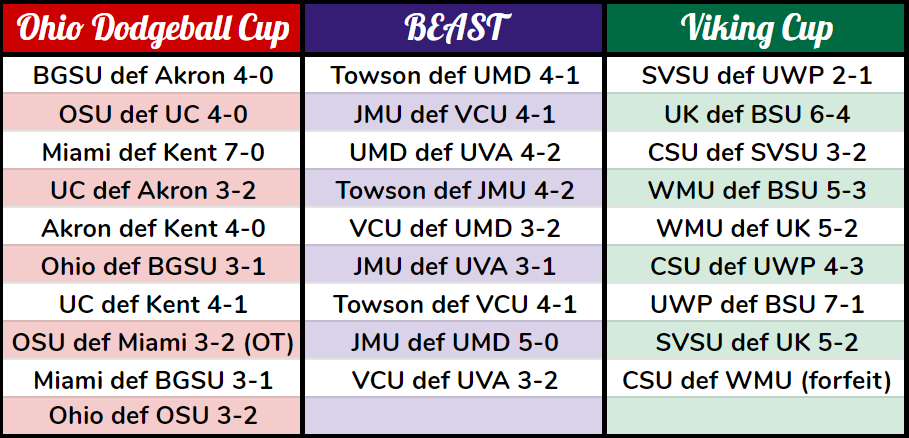 …And here is your current top 20 Gonzalez Standings:
Now onto the winners and losers from Saturday:
---
Winners:
Western Michigan
It was a historic day for the Western Michigan University Dodgeball Club on Saturday, as the Broncos earned their first two wins ever. WMU beat Ball State 5-3, then followed it up with a 5-2 win over Kentucky in which the Broncos came back from a 2-1 halftime deficit to score four-consecutive points en route to a huge victory. Along with Captain Peter Broe leading the way, WMU had some strong consistent play from Ryan Allor and Randy Santana-Jiminez as well as some clutch performances by Hue Pettway and Evin Cooper. Saturday was a great day for WMU, and a stepping stone for their program moving forward. Western's commitment to consistently facing tough competition in the Michigan Region is starting to pay off, and they are moving up the rankings because of it. This team has an exciting future.
---
Towson
Heading into BEAST, there were some concerns swirling about what type of team Towson had this year. Did they lose too much talent from last year's National Title squad? Those concerns were somewhat fair considering the team's pedestrian 4-3 record in the first half of the season. The Tigers were in need of a statement tournament to prove to any doubters they were in fact, title contenders, and they did just that at BEAST. Towson scored 4 points in each of their wins on the day, with the only close match coming against their East Coast rival, James Madison (game broadcast is found here). The Tigers and Dukes had a back and forth game, with Towson surging to a 3-0 lead, then JMU coming back to make it 3-2. In the decisive 6th point of the match, Towson displayed they are a mature and battle-tested team with the way they slowly but surely came back from an early player deficit to win the point and seal the deal with a 4-2 final score. Sophomore Hunter Friedman was a star for the Tigers over the weekend, and a big reason why the defending champs were able to go 3-0 on the day.
---
Cleveland State
What a day Cleveland State had on Saturday! CSU hosted the Viking Cup and came away with a 3-0 record, including two massive wins for their program over Saginaw Valley State and Wisconsin Platteville. The Vikings have rocketed up the standings after the weekend, moving from #18 to #11. CSU is very much in the Championship Bracket picture. The win over SVSU is a massive program win for Cleveland State, considering SVSU's history as a dominant team in the NCDA, but arguably more impressive was the way CSU overcame a halftime deficit to beat UWP (2nd half can be seen here). CSU is a team on the rise in the NCDA right now, thanks to their current six-game win streak. Joe Walsh continues to lead the way for Cleveland State, and he had help form a handful of strong performers on Saturday, namely, Leon Rockamore, Kevin Premsook, Rece Emplit, and Philip Kline. Don't be surprised when CSU makes a major jump in the Power Rankings.
---
Ohio
Ohio was able to win the Ohio Dodgeball Cup on Saturday, with a 3-1 win over Bowling Green State, and a thrilling 3-2 victory against Ohio State. The Bobcats improved to 16-1 on the season, and enter the final few months of the season with some momentum now. Ohio once again showed their depth is a strength, as the entire starting lineup for the Bobcats performed well. Jake Larsen and Dusty Moell were two standouts for their play on Saturday. Ohio's lone loss on the season was an overtime game against Miami, and while they didn't get the chance to avenge that loss, they are certainly happy with coming out on top at the ODC. This team has proven time and again that they are one of the best teams in the country. The Bobcats moved up to #3 in the Gonzalez Standings after Saturday's results.
---
Ohio State
The Buckeyes are huge winners this weekend, thanks to an inspired effort at the Ohio Dodgeball Cup. Ohio State took down Cincinnati in the first round of the ODC, followed by an epic overtime win against Miami. In the finals, the Buckeyes fought hard with Ohio University, but ended up losing in dramatic fashion, 3-2. OSU was one player away from making the game 3-3 and forcing OT against Ohio, but ultimately they were not able to beat the clock. While that loss was heartbreaking, it was still a fantastic week for the Buckeyes. Dylan Greer had a dominant performance at ODC, as did Ben Johnson. Sam Palumbo was also on his game on Saturday, and should be a name people keep an eye on down the stretch this season. Ohio State moved up to #8 in the Gonzalez Standings after the weekend, and will likely jump up in the Power Rankings as well. They are a clear dark horse team heading into the final few months of the 2019-20 season.
---
James Madsion
This may come as a surprise to some, but make no mistake, James Madsion was a 'winner' on Saturday. The Dukes certainly would've loved to go undefeated, but in the end, they finished 3-1 at the BEAST. James Madison won comfortably against VCU, UMD, and UVA, while losing a very tight 4-2 game to Towson (which can be viewed here). The score does not do justice to how close that match was, as JMU could've easily won several of the points that they lost. While it still will not look great in the win/loss column, JMU proved that they are on Towson's level at this point in the season, making them serious contenders nationally. The Dukes will likely have a chance to avenge their loss this coming weekend at Towson. Evan Eschenburg was playing at an MVP level on Saturday, most notably againstTowson where he would go on impressive runs taking out one player after another for the Dukes.Shawn Donahue is another JMU player deserving of recognition for his play over the weekend. The two previously mentioned players will be key for JMU moving forward if they hope to finish the year strong.
---
Cincinnati
The Bearcats are slowly but surely climbing the Gonzalez Standings, as they moved up to #14 after this weekend. Cincinnati lost their first match of the ODC 4-0 to Ohio State, but followed it up with a few wins. Cincy beat Akron 3-2, then followed it up with a 4-1 victory over Kent. They had strong performances from Brett Liming, Matt Rosinski, and Jake Barrett, among many others. Coach Wes Peters and the Bearcats continue their upward trajectory, and they are sitting pretty right now as a Championship Bracket team, and likely a team that will remain within the top 15 of the Power Rankings.
---
The Ohio Region
Don't look now, but the Ohio Region has 6 teams currently positioned to make the Championship Bracket at Nationals (Top 16 in the Gonzalez Standings), including 5 of the top 11! With the great last few weekends that Ohio State has had, it seems like the region possesses three legitimate title contenders. The state of Ohio continues to improve, and become a powerhouse in the NCDA. Will they collectively be able to out-perform the East Coast Region or the Michigan Region at Nationals? That is still to be answered…
---
Fans watching at home
There were countless live streams throughout the day on Saturday, allowing those at home the ability to view so many great games. A special shoutout belongs to Shadeed Drakeford and Hunter Ford for running a great stream of the BEAST Tournament. The commentary was fantastic, especially for the Towson vs. JMU game.
---
Losers:
Akron
Unfortunately Akron dropped outside of the Championship Bracket top 16. For that reason, they land here. Akron will have plenty of opportunity to avenge their losses thanks to their home tournament (WAR) coming up in a few weeks.
---
Wisconsin Platteville
UWP lost a few very close matches over the weekend. They dropped to SVSU (2-1), and CSU (4-3). Both games could've gone either way, so one has to wonder how much higher UWP could be in the rankings had they been able to win out. Platteville hosts a tournament this weekend, and will have chances to make up for a few tough losses.
---
Saginaw Valley State
SVSU is in a similar boat to UWP in that they lost a very close game that otherwise would've helped them in the rankings. SVSU's loss to CSU is the difference between SVSU being in the winners section as opposed to this one. The Cardinals will be in action again prior to Nationals, and will hopefully get back to the way they were playing at MDC. This team still has a lot of potential, they just seemed to have an off-day at the Viking Cup.
---
Kentucky
1-2 on the weekend, with a loss to newly formed Western Michigan. Not the ideal weekend for Kentucky. Hopefully this team can perform better at the Southern Dodgeball Cup, and gain some momentum heading into Nationals!
---
Fans watching at home
As seen in the 'winners' section, the fans watching at home were spoiled with plenty of streams, but there is one small complaint: On some of the streams on Saturday, players and fans were constantly in the camera's way. Unfortunately, not all venues are as ideal for filming as MSU or GVSU, but hopefully moving forward, we can improve as a league at making sure the camera is set up in a smart position, and bench players or fans are instructed not to get in the way of the footage.
---