Another year of college dodgeball is in the books.  While we continue to recover from what was another exciting year playing the best sport on earth, we do have some big news to share.
Listed below are the 15 individuals selected as 2017 College Dodgeball All-Americans.  Each of these players did an outstanding job on the court this season, and are more than deserving of this recognition.
Along with each name on this list is a brief description, written by a member of the NCDA Content team.  Congratulations to each of these athletes for etching their name into the NCDA history books as College Dodgeball All-Americans!
Also, please note that we will be releasing the second team (players ranked 16-30) later this week.  Stay on the lookout for that.
Without further ado… here are your 2017 All-Americans:
---
1. Colin O'Brien (MVP)
Michigan State University
Your 2017 College Dodgeball MVP goes to Michigan State's Colin O'Brien. While his career did not end with a national title, he will still go down as one of the greats.  A fierce competitor with an incredibly high dodgeball IQ, Colin made quite an impact over his 5 seasons in the league.
I long considered Aleks Bomis (founder of the club) to likely be the first MSU grad to make the (not yet created) NCDA Dodgeball Hall of Fame, but after the past few seasons of dodgeball, O'Brien has positioned himself right up there with Bomis as a first-ballot Hall of Fame type of player.  When it is all said and done, we will look back at MSU's "O'Brien Era" (yeah, I just named it that), and realize his five years on the team were also the five best years in program history for the Spartans.
While his trophy case is vacant of any National Titles or Michigan Dodgeball Cups, he can at least retire knowing he is only the second player in NCDA history to be a 4-time All-American.  Quite an accomplishment.  One could argue that Colin's ugly face belongs on the Mount Rushmore of Collegiate Dodgeball.
-Written by Kevin Bailey
---
2. Nick Hazergian
Saginaw Valley State University
Nick Hazergian comes in at #2 on this list after a stellar season.  The second year player for SVSU certainly earned his place on the All-American Team.
Last year Nick became a well-known player due to his power arm.  His throw is still top notch (tied for fastest in the league at 79 mph), but it was his improved catching, leadership, and strategic play that really put him in the discussion for MVP in 2017.
Nick returns next year to lead a very dangerous Saginaw Valley State team in search of their first National Title since 2012.  Let's just take a moment and pray for all the opponents that find themselves on the receiving end of one of Nick's throws next season.
-Written by Kevin Bailey
---
3. Mike Hinely
Towson University
Hinely was a player that, for most of last season, not many people outside the East Coast knew about until Nationals.  This year has been completely different.  From a very early point in the year it was apparent the kind of impact he would have for the Towson Tigers.  The entire year has reflected his high level of performance which includes being named the October Baller of the Month, leading Towson to their best season in program history, and being named captain for his team for the 2017-2018 season.
There are few holes to Hinely's game, which has helped him earn his spot as one of the best players in the league.  He has as strong of an arm as anyone in the league with a perfect amount of dip that can throw any skilled catcher off of their game.  On top of that, he has the ability and willingness to lay out for any balls coming his way which has made him more multidimensional than most in the league.  With one more season left, expectations will certainly be high for him, but he has never been one to shy away from a challenge.
-Written by Hunter Ford
---
4. Doug Schilling
James Madison University
Going into the year I knew Doug was probably one of the most talented players in the league, however after this season I can say that with absolute certainty.  This southpaw has an absolute rocket for an arm which is matched by very few.  He makes his already talented JMU team that much better, and will be expected to take them far as the clear ringleader next season.
He plays with more swagger than anyone in the league, which is evident with every money sign he throws up.  This confidence helps fuel his game, and when he is in a groove it is near impossible to stop him and his teammates.  There is no reason Doug will be anything short of an MVP candidate next season.
-Written by Hunter Ford
---
5. Wes Peters
Michigan State University
Wes Peters turned in easily his best season as an individual in 2016-17. The veteran player for MSU helped lead them to some big wins this year. Wes paced this squad to nearly a trip to the National Title Game, which is no easy feat.
A player who joined the league in the fall of 2010, Wes was part of the famous CMU team that won it all in April 2011.  While he was unable to earn another National Title this year, he still had an impressive career. 2016-17 saw Wes really develop into an all-around talent, after years of him being mostly a catcher.  MSU would not have had the season they had if it weren't for Wes Peters.
-Written by Kevin Bailey
---
6. Mike Riley
Central Michigan University
Riley was the best player on CMU this season, in my opinion anyway. When the Chippewas needed a big play, they could turn to Riley to come through (just head over to his Instagram to see video proof of Peter and him hitting and celebrating a point-winning team throw at the MDC). Riley has no lack of confidence in his abilities on the dodgeball court and his play demonstrates why he's one of the best in the league.
When he comes up to the throw line, everyone's eyes are on him. Despite this, when Riley throws it often results in an opposing player walking to the out line. He couples his hard throw with catching abilities that match his CMU teammates. Riley has been an integral piece in Central's three straight national championship appearances and his second All-American honor is well deserved.
-Written by Colin O'Brien
---
7. Brandon Meisel
Grand Valley State University
Brandon stepped into a big role this season: replacing Kevin Bailey as captain of GVSU. To make that even tougher, he had to do it as just a sophomore. Despite this, GVSU didn't miss a beat with Meisel in charge. A change of pace from the previous two GVSU captains, Brandon wasn't always the focal point of the Laker offense. He knew when to defer to the wealth of talent of his teammates. But like many of the players on this list, when his team needed a big play, Meisel would step up and make one.
Meisel is probably best known for his arm on the court, which would be the hardest on most teams but just not his with Ray Franklin as one of his teammates. But Brandon is also one of the best players in the league at jumping and making a catch. Time and time again this season Brandon would jump into the air and catch a high ball anywhere from his chest to his face. Meisel earns his first All-American honor this season and as he is just a sophomore, it would be a good bet to see him as a regular on this list for the next couple of years.
-Written by Colin O'Brien
---
8. Tyrell Smith
Bowling Green State University
Tyrell Smith has been an integral part of the BGSU offense for sometime now, but has really stepped into the spotlight for his final year with the falcons. I think we can all agree that this man has a canon for an arm, and the catching abilities to match it. He was a captain, president and nationals coordinator during his tenure with BGSU and really left his mark on the league. His skills are so well rounded that I wouldn't want to be on the receiving end of one of his quick throws and I would always think twice about single throwing at this man.
His court presence coupled with his dodgeball skills are second to none, and made him a force to be reckoned with during his career. He was one of the funniest, kindest, and wisest players that have come from the Ohio region and will surly be missed when he is gone.
-Written by Colby Briceland
---
9. Aaron Terenzi
Grand Valley State University
Aaron was often the catalyst for GVSU this season. His play often elevated the Lakers from good to great in any given point. This was no clearer than in the National Championship Game, when he made catch after catch along with a few hits to help GVSU win their fifth straight championship. Terenzi always seemed to be one of Grand Valley's best players throughout the last couple of years, but never one of their most talked about players.
Aaron has a powerful arm that is as good as any in the league. But, he is especially good at baiting players into throwing at him. When an opponent would make that mistake, a drop catch from Terenzi was often the result. He ends his career with a second All-American honor and another championship, knowing that his performance played a large part in continuing the GVSU streak.
-Written by Colin O'Brien
---
10. Logan Baird
Logan has really made a great name for himself and the Kent State Golden Flashes during his career, and was made famous by his wicked lefty cross. He is a great all around athlete who had the court presence of a true veteran. He can catch, throw, block and dodge with the best of them, and anyone who went against him knows why he is on this list. He helped Kent State tremendously during his time with the Flashes and pulled out some great plays to help them earn a great season for 2016-2017 and also a great showing at nationals with an impressive win against JMU and a great game to make Saginaw earn their spot in the final four.
He is a combination of everything that makes a dodgeball player great. That, combined with his quiet style and leadership, made him a well known player for the Golden Flashes who will most likely be ending his career with Kent State this year. There's not many better ways to go, than being named an All-American.
-Written by Colby Briceland
---
11. Ben Tubergen
Grand Valley State University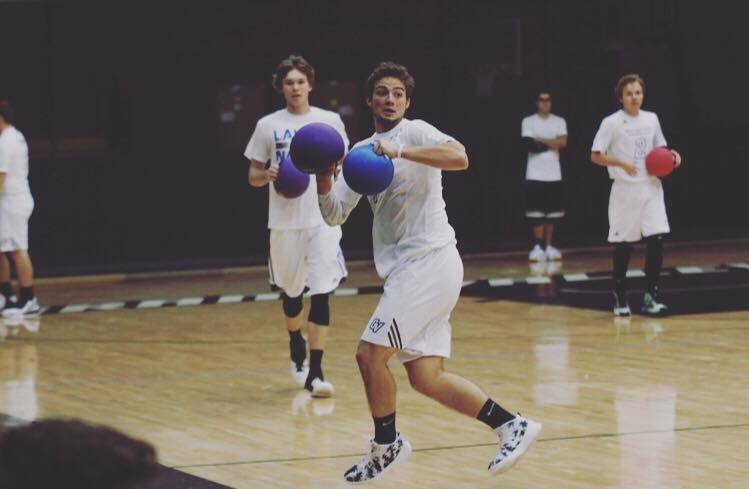 Ben became a go-to player for Grand Valley this season. His stellar play resulted in him winning a well-deserved Baller of the Month in the first March Madness-style BOTM Twitter vote bracket. Ben is the perfect example of why Grand Valley is so good year after year, as they seemingly churn out players like him every year. Ben was a pretty good rookie his first season. He then became a good player in his second year. And now in year three he is a great player worthy of All-American recognition.
Tubergen is another classic Grand Valley all-around player. He does everything well: throw, catch, block, you name it. His OT-winning throw sent Grand Valley into the championship game, in which his top-level play continued. With rumors of Ben graduating early in December next season, this may end up being his only All-American honor, a recognition that was well earned.
-Written by Colin O'Brien
---
12. Albert DePerro
Kent State University
When you think of Kent State players, I can guarantee that one of the first people to come to mind is Albert Deperro, and for good reason. He is easily one of the top 5 players to come from Kent State, and he has earned his spot on this list yet again, and it's not a surprise to me, because he is a fantastic player who has learned the ins and outs of this sport almost as well as anyone. His throwing and catching abilities, paired with his court awareness and knowledge make him a giant threat for anyone playing against Kent State.
Burt is a great person and friend and I will be sad to see him go (when he ever decides to graduate). I can think of no one else who deserves more recognition for their efforts, than Albert Deperro. Kent State will have a massive void to fill when he is gone.
-Written by Colby Briceland
---
13. Zach Bachner
Central Michigan University
Zach Bachner makes yet another All-American list.  Due to graduation, this one will be his last.  Bachner quietly has put together an unbelievable career. This guy was a catalyst for Central Michigan for three-straight trips to the National Title Game!
CMU went from a first round exit at Nationals in Zach's first year, to being a top-2 team in the country each of the past three years.  Zach's spectacular ability to make difficult catches, paired with his leadership and smart on-court presence has helped him earn yet another All-American Honor.
Central Michigan has a massive void to fill with Bachner graduating.  I am happy to see him once again get this recognition, it is very much deserved.
-Written by Kevin Bailey
---
14. Kyle Bruce
Saginaw Valley State University
Kyle Bruce had quite the breakout year.  The second-year star for SVSU has developed into a top-tier player in this league.  Kyle has a strong and accurate arm, and is relied upon heavily by his team in that regard.  What really sets him apart from other strong throwers is his ability to make amazing catches.
Kyle is reliable to make the routine catch, no doubt.  What makes him special is how skilled he has become at making the diving catches, or near-impossible catches.
Kyle will be one of the most dangerous arms on the court at all times next year, but will also be one of the most difficult guys to get out.  If SVSU is to make another title run, this man will be front and center in that quest. Congratulation Kyle on making this list.
-Written by Kevin Bailey
---
15. Brandon Engelman
University of Kentucky
Brandon is as complete of a player as they come.  He is a good thrower, great catcher, and certainly an amazing teammate and influence for the Wildcats.  While not being a super outspoken leader, his play was enough to speak volumes throughout the year.
Brandon has certainly seen some ups and downs during his time with the team, but he is leaving behind a legacy that future Kentucky dodgeballers can aspire to in the future.  Without a doubt he deserves to be on this list and be recognized for his accomplishments throughout his career.  The only way he could help his team anymore is if he decides to pursue a PhD and stick around for a couple more years.
-Written by Hunter Ford
---
That concludes the 15-player list.  Make sure to check back next week for the reveal of our 2nd-Team All-Americans (players ranked 16-30).