We are just over halfway through the National Collegiate Dodgeball Association's 2017-18 season.  In the fall we were lucky enough to see some very impressive individual performances from various players spanning across many different NCDA regions.  I gave my input on who might be MVP candidates at the start of the year, and now I would like to revisit that topic.  There is still a long way to go before the NCDA All-American Team is voted upon, but at this point in the year, I have narrowed the list of players remaining in the race to finish #1 on that list.  Here are my finalists for NCDA MVP (please note these players are grouped into a few different sections, and listed in alphabetical order within each section).
---
The Front Runners:
Kris DeJesus (SU)
It's no secret that Kris is one of the most talented and skilled players in the entire country.  In fact, if I'm drafting players for the All-Star Game again this season, you can expect to see Kris's name come off the board in the first round.  This guy can do it all, with a strong throw that has plenty of movement, and of course great hands.  Kris has led Stevenson to easily their most successful season ever, including their first three wins in program history.  Historically speaking, DeJesus will be at a disadvantage in the MVP race because his team is not likely to win a title, let alone make it to the Final Four (all but one MVP in league history also won the national title that season.  The other still made it to the Final Four).  With that said, I still consider Kris a favorite because of the staggering impact he has on his team's success, and just his overall drive to be the best.  If Stevenson has a solid second semester, and makes a surprising run at Nationals, don't be shocked if this guy takes home NCDA MVP in 2018.
---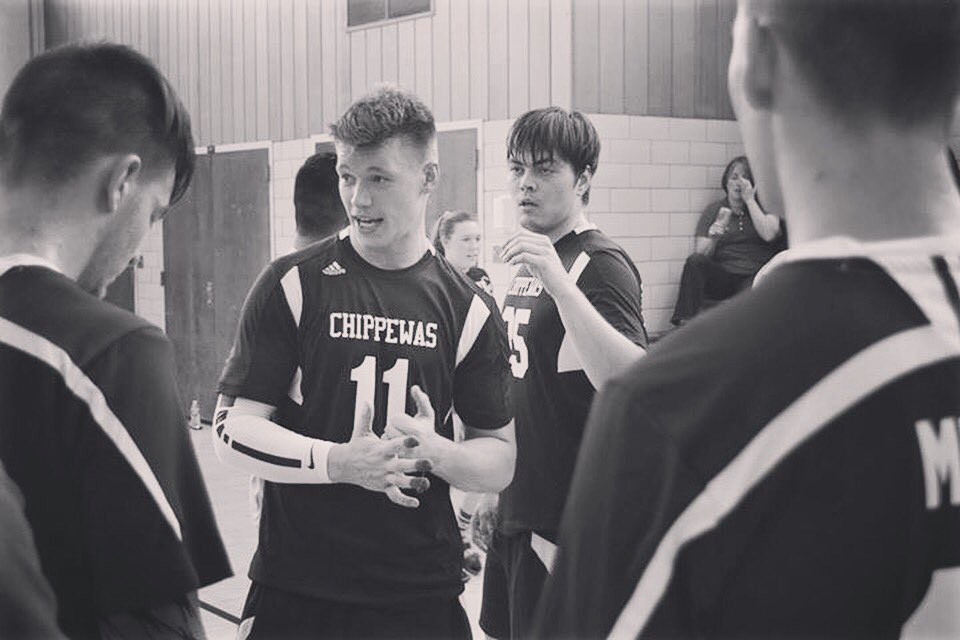 Mike Riley (CMU)
This just makes all the sense in the world when considering previous NCDA MVPs.  As mentioned above, all but one NCDA MVP was on the national title winning team.  Central Michigan is currently sitting atop the standings with a 15-0 record, so it's safe to say they are poised to be a big factor in the championship race.  Riley is the best player on the league's best team right now.  He is one of the most competitive players out there, and happens to have a great arm, solid hands, and fantastic dodgeball instincts.  All of those traits could be said about every MVP the NCDA has ever had.  As you can see, Mike currently checks all the boxes for what is required of an MVP candidate, and if the season ended today, he certainly would have received my vote.  If CMU can win the title this year, I don't see a scenario where anyone else wins MVP.  If Central falters down the stretch and misses another chance at a championship, then maybe someone else will be able to steal the MVP distinction from him.
---
Doug Schilling (JMU)
Doug is without a doubt one of the best players in the nation, and it has been that way for a number of years.  Few players have as strong and accurate a throw as Doug, and few players have the ability to single-handedly catch their team back into a game, even win the opponent is making team throws at them.  This guy has proven himself time and time again, and is a main reason why JMU is dominating the East Coast Region once again.  Doug has led JMU to a solid first half to the season.  The Dukes have only 2 losses on their resume (one of which was a last minute loss to CMU).  Bottom line for me is this: If Doug has a standout winter/spring that ends with the Dukes winning a national title, it's a no-brainer he deserves MVP.
---
Has some work to do:
Nick Hazergian (SVSU)
Nick came up just short of an MVP distinction last year, so he is certainly still in the race this year.  There are a few main factors why I didn't put his name in the "front runners" section.  First off, SVSU has had an underwhelming year so far, sitting at 3-8.  The Cardinals have fallen way short of expectations so far, so he has some work to do to get them back on track.  On top of that, SVSU's surprising decision to skip MDC will unfortunately have a major impact on his MVP candidacy in my opinion.  In college football, Baker Mayfield cemented his place as the Heisman front runner with big-time performances in big-time games against Ohio State, Oklahoma State, TCU, etc. during the 2017 season.  MDC was the biggest opportunity on the schedule for Nick to make an MVP statement, but unfortunately he won't be playing in that tournament.  With all of that said, if Nick has a stellar second half of the season and leads SVSU to the title game at Nationals, he very well may be the 2018 MVP.
---
Michael Hinely (TU)
Long story short, Hinely remains one of the best players in the nation.  His team has not been as strong as we expected so far this year, but they have still put together a 14-3 record.  If he is able to lead his team to some revenge victories over teams like JMU and BGSU, then he will be right in the thick of the MVP race.  If Towson makes their first Final Four run in program history, that may be enough to put this guy's name at #1 on the All-American list.
---
Brandon Meisel (GVSU)
Brandon is a fantastic talent, and obviously someone who's name will be in this race until the end.  I have him down in the 2nd section right now, but if GVSU can pull off a few wins over CMU this winter/spring he will instantly jump near the top of the front runner section.  The best player on the best team is obviously a good formula for winning MVP, and if the past few years are any indication, GVSU will peak late in the year and have as good a chance as anyone to win the national title.  His next chance to prove himself will be at the MDC on Feb. 11.
---
So you're telling me there's a chance?
Joey Stack (Akron)
Akron had a rough first half to the season, but Joey is still one of the best players in the country, and arguably the most skilled in the Ohio region.  If Akron has a phenomenal second half of the season and exceeds all expectations, Joey will be a top candidate for MVP.
---
Tyler Wickham (BGSU)
BGSU has been unbelievably successful so far this year, and yes they seriously have a chance to win it all this April.  Best player on potentially the best team = Tyler is definitely still in the race for MVP.
---
Someone else from CMU/GVSU
This is the biggest wildcard on the list.  Players like Bryce Belen and Casey Bielec of CMU or Aaron Krafft and Sam Stockdale of GVSU are obviously great players, and if they steal the show at MDC and Nationals and are the clear top player, then I could see one of these names as MVP.  Not as likely as some of the names listed above, but there is undoubtedly still a chance.
---
Previous MVPs:
2012: Spencer Jardine (SVSU)
2013: Mark Trippiedi (GVSU)
2014: Kevin Bailey (GVSU)
2015: Kevin Bailey (GVSU)
2016: Kevin Bailey (GVSU)
2017: Colin O'Brien (MSU)
---
Who is your pick for MVP?  And are there any dark-horse candidates that I may have missed?  Comment below with your thoughts!