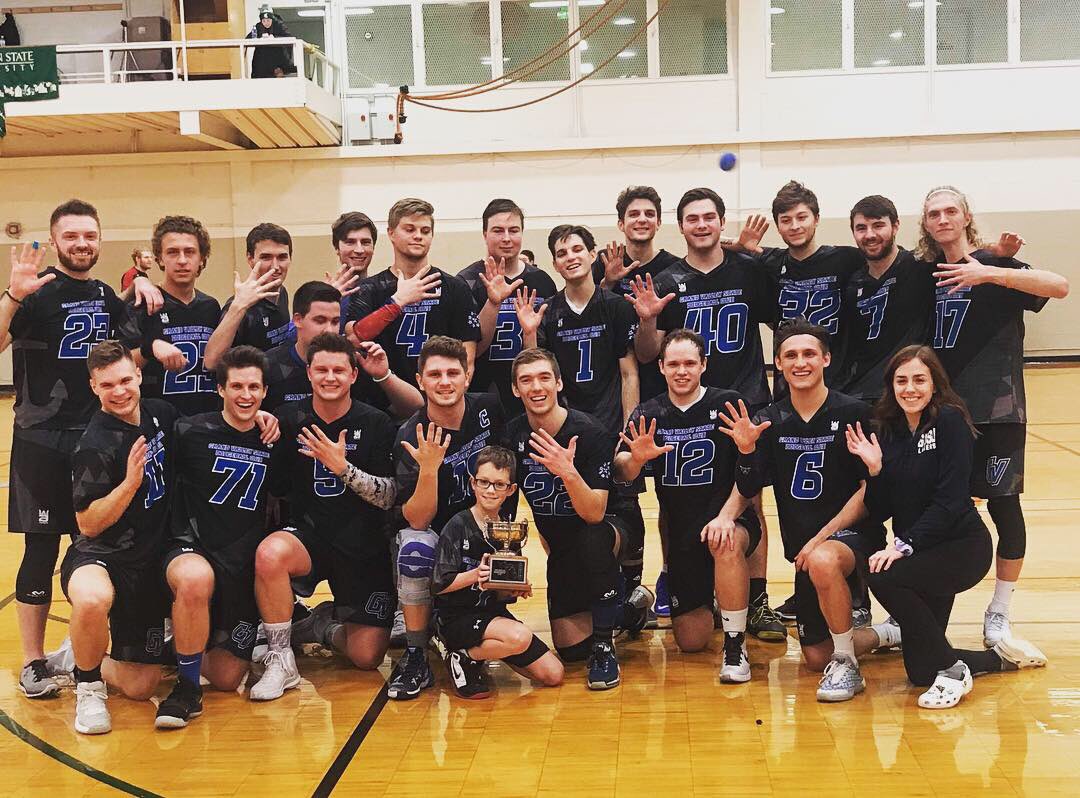 New year, same result.  The Grand Valley State Lakers were victorious once again at the Michigan Dodgeball Cup on Saturday, making it 5-straight MDC titles for GVSU, and 11 overall.  The tournament also hosted four other Michigan schools: Saginaw Valley State, Michigan State, Central Michigan, and Western Michigan.
See all results from this event here.
Results: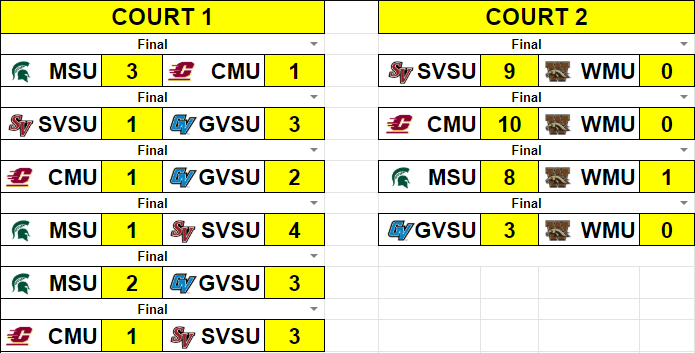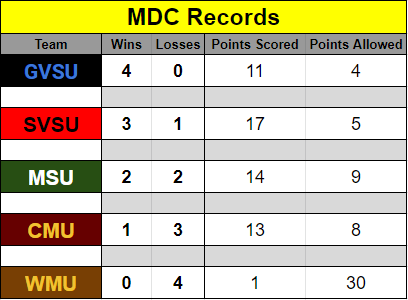 ---
Team Recaps:
With their 4-0 finish at MDC, Grand Valley improved their record to 19-0 on the season, and their overall win streak to 27, dating back to March 25, 2018.  The Lakers are now just 14 wins shy of the all-time record of 41 (reached two separate times by GVSU).  Grand Valley did face a bit of a test from Michigan State in their final match of the day, as the Spartans took two consecutive points, claiming a 2-1 lead early in the second half.  This was the first time all season the Lakers trailed in the second half of a game.  The final score of the contest vs. MSU was 3-2, GVSU's closest result of the tourney.  GVSU's wins over SVSU (3-1) and CMU (2-1) were less dramatic, as the Lakers didn't give up a point in either match until very late in the 2nd half of each contest.  GVSU will remain the #1 team in the country and clear favorite to win Nationals this upcoming April, conveniently taking place on their home court.  All signs point to this squad becoming the first since 2009 to finish the year undefeated (that 2009 team didn't give up a point all season).
Finishing at #2 at the tournament was Saginaw Valley State.  The Cardinals had arguably their best tournament of the season, going 3-1, with wins over WMU, MSU, and CMU.  Saginaw came into the tourney with modest expectations nationally after an up and down performance at WAR III a week prior to MDC.  The confidence within the program was quite evident all day, as the Cardinals bounced back from a 3-1 loss to Grand Valley to earn big victories over Michigan State and Central Michigan (4-1 and 3-1, respectively).  The biggest thing one will notice when watching SVSU play is how instinctive they are as catchers.  The whole Cardinal roster can catch, it seems, and they showed it off over the weekend, especially in the wins over MSU and CMU.
Michigan State had an up and down day at MDC.  While they were, in a way, able to exorcise their MDC demons (winning multiple games for only the 3rd time in the tourney's 15 years), they still took losses to two Michigan rivals.  The Spartans started the day hot with a big win over CMU in the first round of action.  MSU jumped out to a sizable lead in that game, looking as deep as they have all season.  After an 8-1 win over lowly WMU, the Spartans' day took a turn for the worse.  They ran into a buzzsaw in the match with SVSU, as nothing could go wrong for the Cardinals.  The game ended 4-1, but the Cardinals could have easily made it 5-0 if they hadn't taken their foot off the gas.  While it would be expected for a young team like MSU to roll over in their following game against #1 GVSU, they did the exact opposite.  The Lakers took a decisive first point, but after that, things got chaotic.  The Spartans took the next two points of the game, to hold a 2-1 lead before eventually falling 3-2 in the contest.  Overall, MSU showed strengths as well as some vulnerabilities this weekend.
Central Michigan did not have the type of day they would have liked.  The young CMU squad couldn't hang with MSU in the first round of the day, and despite a much more inspired performance against GVSU, they were unable to secure an upset win.  In the last round of games, CMU did show some life, as their match with SVSU could have been locked at 2 had a few plays gone their way.  The Cardinals turned out to be too much for CMU, finishing the Chippewas day at 1-3 with their only win against Western.  The Chips' inexperience really showed at times on Saturday.  While they have some solid playmakers, it seemed like they didn't have strong enough arms, or efficient enough team coordination to handle the other top teams in attendance.  CMU has plenty of room to grow, and will need to do so if they have plans on making another visit to the national title game at Nationals.
Western Michigan is officially an NCDA member school!  The Broncos faced a pretty impossible task for a first year team by facing 4 top 6 teams in their first tournament ever, but they came away with a very valuable thing: experience.  With these 4 games under their belt, WMU is now eligible to attend 2019 Nationals!  It will be interesting how they compete against teams far lower in the rankings than the opponents they faced on Saturday.
---
Notable Players
In this section we will list some players that caught our eye with their performance at MDC.
Ryan Anguilm (SVSU)
Arguably the overall MVP of the event, Ryan undoubtedly made the most catches of any player at the tournament this past weekend.  He was especially dominant in SVSU's wins over MSU and CMU.
Blake Clevenger (GVSU)
Blake came up big for GVSU in the first point of the game against SVSU, as he made multiple big throws / catches to help GVSU earn a comeback win in the point.
Dennis Sullivan (MSU)
Dennis had an up and down day (just like his team), but showed at times why he is so well regarded, with solid transition play.
Collin Freeman (GVSU)
Collin's instincts on the dodgeball court continue to improve, and it showed this weekend.  His arm and even more so his hands were too much for some of GVSU's opponents to handle.
Evan Bara (MSU)
Evan was one of multiple MSU rookies to make a big impact this weekend.  He will certainly be one to keep an eye on at Nationals.
Chase Roelofs (SVSU)
At one point during MDC, Chase found himself as the only Cardinal remaining, but proceeded to make 4 or 5 catches in a span of a few minutes to help his team climb back into the point.
Tyler Prill (CMU)
Tyler was one guy for CMU who seemed to shift the momentum significantly every time he made a play.  Tyler was one of the top catchers at the tourney.
Noah Womack (SVSU)
Another SVSU player who is not yet well-known, Noah made some incredible catches this weekend to help his team finish in 2nd Place.
---
Court one games that were streamed on Facebook will be uploaded to YouTube in the near future.  Special thanks to GVSU alumni Daniel Jilote for helping make the stream possible.